The maestro of load management has been key to the Raptors' playoff success
TORONTO — Kawhi Leonard leads the Raptors.
He's led them into the NBA Finals for the first time in his first and perhaps only season with the club. He leads them in scoring. He leads them in rebounding. He leads them in heart-stopping, signature playoff moments. And he leads them in murals as his post-season masterpiece is so evocative it's inspired street art at various points around his live-work space, otherwise known as Toronto.
But the most important category that explains how the Raptors have arrived here — at the center of the basketball universe with a 2-1 lead in the NBA Finals over the two-time defending champion Golden State Warriors — is that Leonard leads all players in the NBA's post-season tournament in minutes played.
Leonard didn't need to be his dominant self in the Raptors' win during the first game — 23 points, eight rebounds and five assists is just another night for the post-season's top performer to this stage — but head coach Nick Nurse felt comfortable rolling Leonard out for a game-high 43 minutes, pushing his average to 40.2 since the beginning of the second round.
The guy whose workload was handled with velvet gloves through the regular season has morphed into a playoff thoroughbred with a plough horse's stamina.
It's a development the Raptors were hoping for, but even his teammates weren't sure would arrive as the season wore on and Leonard's workload was being managed so carefully.
"It wasn't a matter of trusting [that Leonard would be ready for the playoffs]," says Raptors guard Fred VanVleet. "It was a matter of waiting – 'All right, he's resting, but what the hell is he resting for?'"
Stream marquee NBA matchups from around the league, including over 40 Raptors games. Plus, get the NHL, MLB, Premier League, CHL and more.
The Raptors were 17-5 when Leonard sat in the regular season but his value — and the value of Toronto's patience — has been proven in the post-season.
The Raptors are 22 points better per 100 possessions with Leonard on the floor than when he sits, which is why Nurse has leaned on him so heavily when the games have mattered most.
That Nurse has been able to do so reflects the outsized impact of the club's director of sports science, Alex McKechnie, a white-haired senior citizen with a Scottish accent who has as much influence in the organization as anyone other than Nick Nurse and president Masai Ujiri.
When the Raptors traded for Leonard, who had missed 73 games in San Antonio in 2017-18 due to an unspecified right quadriceps injury, a Raptors insider texted McKechnie with a simple message:
"You're the most important person in the organization now."
Managing the load
When Leonard arrived in Toronto, he made his priorities clear — after establishing that he was, indeed, "a fun guy" — a few minutes into his opening press conference on the eve of training camp.
He was asked: What does he want for his career?
"Just be able to be healthy, that's my No. 1 goal," he said. "Play a long, healthy career [and] be able to be dominant, wherever I land."
He's dominant. He showed it all season long as he posted career highs in points (26.6) and rebounds (7.3) and was second-team All-NBA and second-team all-defence despite playing just 60 games — missing most of the other 22 due to "load management."
The term is a medical one, recognized by the NBA and deemed an acceptable reason for teams to sit out players who aren't otherwise acutely injured or ill. It was McKechnie — who's in his 19th NBA season and seventh with the Raptors — who made the term part of the lexicon and was responsible for managing the load by keeping track of Leonard's fitness through a combination of biometric measures, outside medical opinions and feel.
Shortly after he joined the Raptors, McKechnie — who was not made available to be interviewed for this story — described his approach, honed after more than 40 years working in the field, as a blend of science and instinct born of thousands of hours of in-field experience.
"When we look at rehabilitation and training and conditioning, there's a science to it, [but] once you establish the science the trainer becomes an artist, and so it's really painting that individual's picture," McKechnie told Raptors.com in 2012.
"For example, you're not going to do the same things you may for a post-up player as you would for a guard. Totally different approach to the training protocols. In much the same way that we look at a player shooting on his right side as a guy shooting from his left. There's a completely different set of default postures that we look at."
In Leonard's case it has worked, although not without some fits and starts and some mystery. The team and Leonard were tight-lipped about precisely what his condition was — to this day it's never been publicly acknowledged — or providing firm details about what steps were required to get Leonard back to full health.
When it was announced in the first week of the season that Leonard would miss the second half of a back-to-back on the road against Washington, it was presented as a temporary measure as he built himself up to full strength. Ten days later he stayed home when the team travelled to Milwaukee. Eventually, everyone knew to stop asking: If there was a back-to-back, Leonard wasn't playing in both games, and if there were any other opportunities to grab an extra day off, chances are Leonard would take it.
Even within the team, there were questions that have only been answered as Leonard has put his foot on the gas in the playoffs.
"We didn't care that much he wasn't playing. I was kind of happy about it, to be honest with you," says VanVleet who typically started when Leonard sat out.
"The only thing is he doesn't really talk a whole lot so you never really knew when he was or wasn't going to play and they certainly didn't post his schedule on the wall so we knew what games he wasn't going to play.
"A lot of times we wouldn't find out until five minutes before he went out for the game so halfway through [the season]," says VanVleet. "So I started asking him, 'Hey man, you playing?' and I'd get some extra shots up because I knew I was going to start on the second night of back-to-backs."
Those close to the team acknowledge there were some awkward moments in the early going as Leonard's reserved personality, sporadic schedule and on-going speculation on where he might land in free agency were hiccups that had to be overcome in the team-building process.
As Leonard took on more and more responsibility in the post-season, the concerns eased. When he played 52 minutes while clearly struggling through discomfort in a must-win double-overtime win in Game 3 against Milwaukee, they evaporated. When Leonard insisted on playing in Game 4 even when several notches less than 100 per cent, his teammates knew he was willing to lay it on the line to help them win a title.
"It all makes sense when you get to this point," said VanVleet. "Throughout the season we're all grinding, we're all hurting, we're all having dog days.
"I certainly would have liked to take some time off for my back a couple of times, but that was a plan this team had and you trust the medical staff. They put together a good plan, and it worked."
The Raptors had a plan for Kawhi from Day 1
The process was a deliberate one.
"Me missing games isn't just to keep me fresh," Leonard said in late March in his most revealing statement on the load-management strategy. "It's [about] making sure I don't reinjure something that I was out for last year. Like I said before, they've been doing a good job of reading images and making sure that I'm improving instead of declining on the health side.
"It feels a lot better than when I started the season," Leonard said in the Raptors locker-room after playing nearly 80 minutes in a road-home series against the Oklahoma City Thunder. "There was a little spell where it kind of plateaued, but everybody put their minds together and we figured out a way and now things are looking good and I'm feeling good."
For the Raptors, it all justified a leap of faith they made in trading DeMar DeRozan — one of the most durable stars in the NBA — for a higher-ceiling performer, but one whose long-term health seemed to be a question mark.
Having McKechnie as a resource eased the risk profile.
"It was all by design," says Raptors general manager Bobby Webster of Leonard's load management. "It goes back to when we did the deal. You have to properly assess the issue and come up with a plan — it started on July 18th [when the deal was finalized].
"We've been doing the plan the entire the season and Alex and the medical group was huge. They're huge in any deal. They get a file [of medical data] and they have to make an assessment.
"The great thing about Alex is this is not his first rodeo and that relationship between the athlete and medical point person is really important."
Results count.
"None of this matters if he doesn't play at the level he's playing at," says VanVleet. "It's been impressive to see that and everyone looks like geniuses and the training staff should get a raise and [Raptors president Masai Ujiri] and all those guys look really smart.
"But the guy who looks the best out of the whole thing is Kawhi."
McKechnie looks pretty good too.
The Glasgow native was not always the maestro of load management. He used to be the minister of pain.
Charlotte Hornets associate head coach and former Canadian men's national team head coach Jay Triano has known McKechnie since before he had a mane of white hair. The Scotsman was the athletic therapist for Simon Fraser University in Burnaby, B.C., where Triano played and McKechnie doubled as the strength and conditioning coach as well.
"We f—ing hated him," says Triano, joking but not entirely.
Known now for his skill in carefully returning players to full health, at that time McKechnie had a special gift for making conditioning more difficult, mind-bending and painful.
"Commando crawls back and forth across the gym until your elbows were raw" says Triano. "A lot of peer pressure. A contest to see who could hold a half push-up position the longest. The first person who failed would have to watch everyone else run because it was you who let everyone down.
"You'd be doing wall sits and he'd come sit on your knees when your legs were shaking," says Triano, as if scrolling through a catalogue of the phys-ed teacher from hell. "You'd do a drill and he'd ask you if it hurt and if you said 'no' he'd say, 'You didn't do it hard enough, do it again.' If you said 'yes' he'd say, 'You're not in shape, do it again.'
"He always had something to say, always with a barb," says Triano. "Sometimes we would be like, 'We'll do whatever you want, just stop talking.'"
One drill involved running down to the bottom of a steep hill through the woods and coming back with a rock. The catch? The person with the smallest rock had to do it again.
It was the 1970s.
By the late 1990s McKechnie had developed a reputation as a science-based therapist who had a knack for diagnosing and treating the abdomen and groin, and strengthening those hard-to-manage areas to enhance healing and prevent further injuries. He worked with NHL players and the Canadian national soccer team.
In 1998 he got his biggest client — in every sense — as then-Los Angeles Lakers star Shaquille O'Neal came to see him seeking treatment for painful lower abdominal tears that were threatening his career. For two summers O'Neal spent his time in Vancouver training with McKechnie and in 1999-2000, turned in one of the best seasons in NBA history.
After missing an average of 29 games a year for the previous four seasons, he played 79 games and 40 minutes a night — both career highs — and averaged 29.7 points, 13.6 rebounds and three blocked shots. The Lakers went 67-15, won the NBA title — the first of three straight — and O'Neal won the league MVP award in a landslide.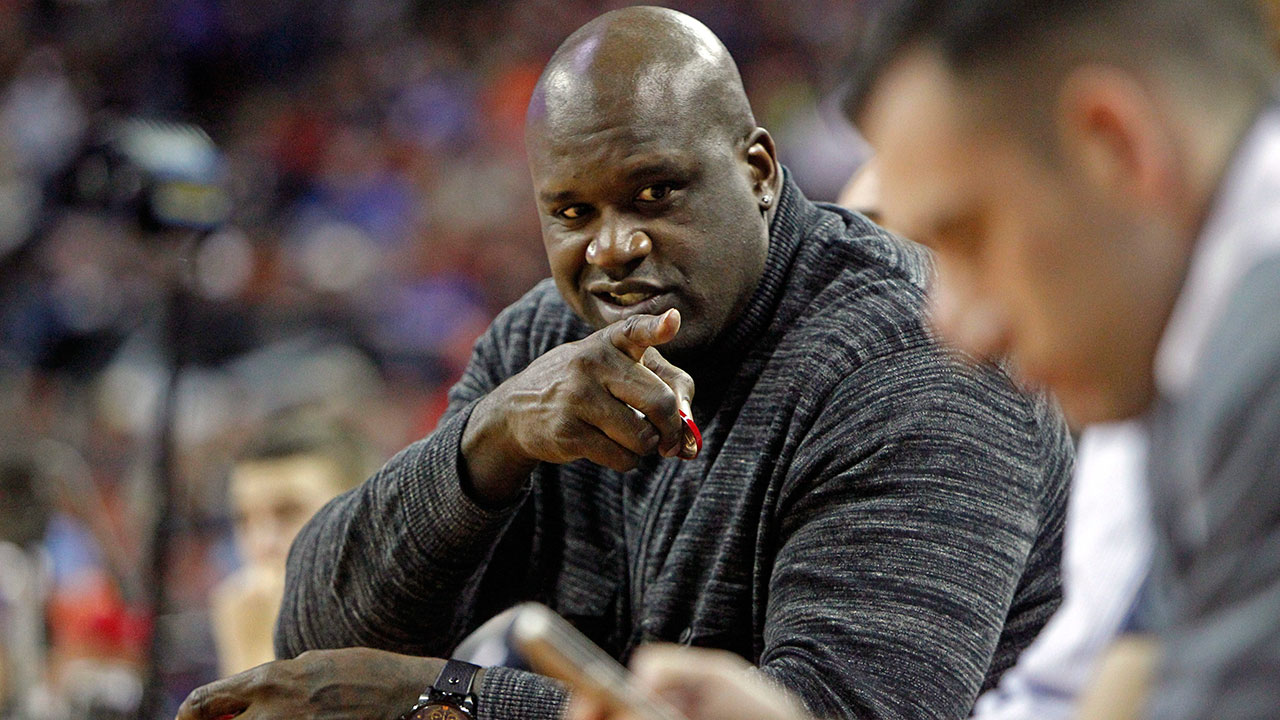 "He saved me," said O'Neal when he was in Toronto broadcasting the Eastern Conference Finals for TNT. "I had torn my abdomen on both sides and if I had surgery in a contract year I probably wouldn't have got the money that I got and wouldn't have been able to keep playing the way I did. "I didn't know anything about him. When I had this injury they sent me to three of the top abdominal specialists in the world. A guy in Boston, a guy in Orange County [California] and Alex.
"The guy in Boston: You need surgery, you'll be out a year.
"The guy in Orange County: You'll need surgery and be out nine months.
"I go see Alex and he says, 'You'll need surgery but I can fix the areas around it and you'll be able to keep playing. Just do what I tell you to do every day and you'll get stronger and stronger.'
"Alex was right."
The Lakers eventually hired McKechnie full-time as their athletic performance coordinator, and he was on staff for five NBA titles in 10 seasons.
While his career was well-established before he joined the Lakers, his time there has given McKechnie the kind of platform that provides instant respect. Just ask him.
"He says if you come over to dinner at his place he uses his five championship rings as napkin holders," says Triano.
Rings for napkin holders?
"I would not be surprised," says VanVleet. "That sounds like Alex. I'm surprised he doesn't wear them every day.
"But that pedigree matters. It's easier to gain a guy's trust if you know the work he's been doing. But you work with him a few times and you realize he knows his stuff. He has the respect of everybody."
Triano and Colangelo helped bring McKechnie to T.O.
It was Triano who helped facilitate his old friend joining the Raptors. During the 2011 NBA lockout, the Lakers allowed the contracts of several staffers to lapse as a cost-saving measure. At the time, then-Raptors president Bryan Colangelo wanted to upgrade Toronto's training and medical staff. Triano, who was working for the Raptors in an executive role in 2011-12 after having been fired as head coach the season before, suggested McKechnie.
"Bryan said, 'Who?' and I said Alex, the Lakers … and he said 'No, no, I know who he is, but how are we going to get him?'" says Triano. "I always kept in touch with Alex and I knew he wasn't being paid by the Lakers during the lockout."
The deal was done over a weekend, and while no amount of medical intervention can keep basketball players injury-free — the Raptors will have had four different players have thumb surgeries this season, presuming Kyle Lowry has a procedure on his left thumb after the Finals — their track record for soft-tissue strains and tears is, anecdotally quite good. In 2017-18 the top 11 players in the Raptors' rotation in minutes per game played at least 70 games, and four of their five starters missed 17 games combined.
McKechnie's influence may be difficult to quantify, but he's earned the trust of another former Spurs veteran coming off a season spent struggling with a hard-to-quantify injury in his groin area.
Danny Green loves Alex McKechnie.
"He had a great breakdown of how it feels," Green said of his groin issues that hampered him last season. "Some days you could play, you felt solid, other days you couldn't laugh because it hurt so much.
"We had different looks at it and we couldn't figure out what it was," said Green, a 10-year veteran who turns 32 next month. "But [McKechnie] could tell what it was and knew how to treat it correctly."
Game 1 of the Finals was Green's 99th of the season out of 101 regular-season and playoff starts. If Green suits up for the remainder of the series, he'll surpass his personal record for total games played in a season, set in 2012-13 when he was 25 years old and the Spurs lost in Game 7 of the NBA Finals.
Green works with McKechnie almost daily and can be seen on-court before games diligently doing activation exercises with McKechnie's patented Core X System of elastic tubing. The trainer leads Green through a series of basketball-specific patterns with tension created by the tubing to activate and strengthen the myriad of muscles in the abdominal and pelvic area that are fundamental to athletic movement but are tricky to train.
It's a similar routine that McKechnie does with Leonard but they typically do their work in private, save for glimpses in an arena hallway on the road.
"Those little movements allow us to be warm, to be activated, for those muscles to be ready to go and fire," says Green. "Something that simple, that small, it's life-changing — career-changing.
"Not only does it keep you ready but it strengthens for next time. You wake up in the morning and you're less sore, you feel stronger, more normal."
McKechnie's more than simply a technician. He builds trust. It was a breakdown of that trust with the medical staff that caused Leonard's divorce from the Spurs.
"They didn't believe Kawhi couldn't play and that caused a lack of trust in us and then us not believing in them," Leonard's uncle and advisor, Dennis Robertson, told Chris Haynes of Yahoo Sports recently.
"…Sometimes you get these team doctors telling you what you can and cannot do, and Kawhi was just in too much pain to get out there. This was a serious issue. They didn't believe him, and after that, the relationship couldn't recover and we decided we had to move on."
The Raptors considered it a significant step in their relationship with Leonard that McKechnie was included when Leonard and his camp consulted with the specialists he relied on for additional opinions after things with the Spurs began to fray.
A player will always judge any clinician based on results, but those who have worked with McKechnie say his personality helps the process.
"The people he's worked with, that helps," says Green. "But he's got great jokes, his accent, he's got a bunch of good stories he can tell which are great and relatable. Positive energy, that's the main thing.
"And he gives you goals for where you can be and it keeps you motivated and inspired. He'll tell you: 'We're going to get you doing this and doing that again.'
"And you're like, 'Really? At this stage of my career? OK then,'" says Green. "His confidence gives you confidence."
The question is if the work McKechnie has done with Leonard could somehow be the difference-maker when it comes time for Leonard to make a decision in free agency. The Raptors have a winning program, can offer Leonard more money and have proven they are willing to do whatever it takes to help him get healthy and stay healthy.
"It's big," Leonard said of his relationship with Toronto's medical staff back in March. "You have to be able to play for people that you trust and them being able to see what you feel. And you just move from there and try to get better together."
Could that be enough to convince Leonard to choose Toronto over sunny Los Angeles, where the Clippers and the Lakers are widely reported as the Raptors' chief competition?
Unknown, but McKechnie and the Raptors have done all they can reasonably do.
After a lost season, Leonard is healthy and playing the best basketball of his career, and that can't hurt.
*This article was published by the Canadien Press